No Comments
SZCZECIN: SOLOISTS CONFIRMED! PROGRAM DETAILS REVEALED!
Today marks the three-month countdown to what is shaping up to be a James Horner concert experience not to be missed.
In addition to the virtually unknown concert works Spectral Shimmers of 1978 and A Forest Passage of 2000, it should come as no surprise that also the most famous of James Horner scores will have their time in the limelight. Some in familiar form, and others ready to be performed as never before seen in concert.

Renowned arranger Nikiforos Chrysoloras, of Greece, is no stranger to tackling the challenge of giving beloved film score classics the best presentation imaginable in concerts. He has prepared music for Hollywood in Vienna, the Krakow Film Music Festival and is

Chief Arranger and Music Supervisor

of the Prague Film Music Festival.
In Szczecin audiences will witness the world premiere of a brand new Concert Suite from Legends of The Fall. The suite is currently being arranged and promises to explore all the themes from the score, which in concert have been limited almost exclusively to The Ludlows getting regular performances.
"In our conversations there has been no doubt in my mind that Nikiforos really understands James Horner's music and will treat the score with the utmost respect and reverence. I can't wait to hear his take on this masterpiece of a film score", says project manager Kim Spildrejorde.

Not surprisingly there will be selections from Titanic performed at the concert. The score for Titanic is so reliant on the sound of the Uillean Pipes, the penny whistle and last but not least Sissel's haunting vocals that it was unimaginable to do this concert without having these pieces in place. But not just any soloists would be good enough.
"When we started discussing who we'd like to perform these parts it quickly became clear that there really was only a handful of musicians we had any interest in", explains Kim Spildrejorde.
The first soloist brought on board was Uillean Pipe and ethnic flute player Geza Frank. Some will recognize the Austrian as the soloist featured in the Hollywood in Vienna 2013 concert in honour of James Horner. Later Geza also has substituted for Eric Rigler on a number of Titanic Live concerts.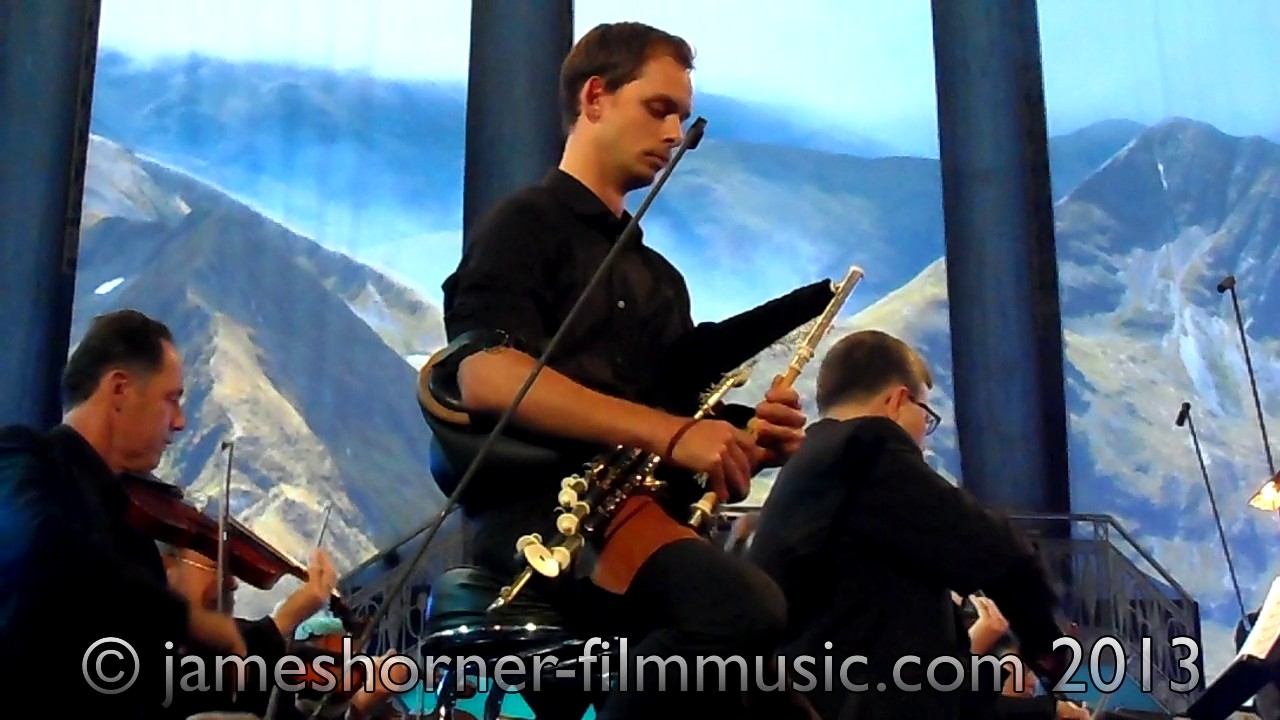 "Geza's playing obviously moved James in 2013. With his experience from several Titanic Live concerts on top of that he's without a doubt one of the most competent people in the world to play the music from Titanic", says Kim.
The final soloist confirmed is none other than the ever-amazing Clara Sanabras, famous for her work on For Greater Glory and for being chosen by James himself to be the primary vocal soloist for Titanic Live. She also performed the Titanic Suite with James conducting in Stavanger, Norway, in May 2015. This performance marked the final time James Horner conducted an orchestra. Clara and James had a special connection and the composer trusted her completely in conveying the magic of Titanic around the world.
Stavanger and Szczecin concert conductor Torodd Wigum says of the pair of soloists:
"I am so happy that Clara Sanabras will take part in our concert! We met in Stavanger in 2015, and I experienced myself the close musical relationship with James and her. She and Geza Frank will be the perfect soloists, who will make this a really special occasion in the spirit of James, together with the Sczcecin Philharmonic Orchestra."
"Apart from Sissel and Celine Dion, Clara Sanabras is the only vocalist in the world that James Horner personally chose and found worthy of doing Titanic for audiences around the world. With Clara performing in Szczecin, the concert's level of authenticity and credibility is elevated by countless levels. She's the real deal. Having anyone else than Sissel or Clara do the vocal soli of Titanic would feel inauthentic to the experience. Through Clara's voice, Titanic comes to life. I could not be happier and it is such and honour to have her join our concert," says a very enthusiastic Kim Spildrejorde.
Of her connection to James, Clara Sanabras writes:
"There's a before and after meeting and working with James Horner. Our first collaboration was for the title song of the film 'For Greater Glory'. At first I worried that he might want my performance to emulate something already existing…. He said 'No, I need you to sound like yourself, like Clara, sing it from the heart'. When he then chose me to work on Titanic-Live, he said the same: 'Don't sing it like anyone else but Clara Sanabras'. That was a true gift from him to me, one that I shall never forget."
Finally, the concert itself is a collaborative effort between James Horner Film Music Association and Filharmonia Szczecin and a poster was crafted to illustrate the worlds of music and color that James so closely associated with each other.
Reminiscent of autumn leaves and splashes of paint emanating from the pages of James' music, we will leave it to our readers to decipher the notes contained within.

The artist responsible for coming up with the design was James Horner Film Music's own Javier Burgos Gasco. The poster will feature prominently in all promotion materials related to the concert. It's our hope that as many people as possible get to see Javier's wonderful, wonderful work. We are forever grateful for his contribution to the project!