No Comments
THE TODD-AO YEARS
If you happen to carefully read the liner notes in your Horner albums, you must have noticed the name of this recording studio several times. The composer has indeed recorded more than forty scores there, or almost half his discography, from Swing Kids (1992) to Deep Impact (1998) and finally The Spiderwick Chronicles (2007). Let's go back to this historical place where the maestro's brilliant notes sounded in thousands.
The origins of the Scoring Stage
In the 1920s, producer Mack Sennett, owner of Keystone Studios, master of silent films and the man who
famously launched Charlie Chaplin's career, moved his production facilities to a 15-hectare field in California's San Fernando valley. There he built a cinema studio, in an area which would come to lie at the intersection of Ventura Boulevard and Radford Avenue. The inauguration of Studio City took place in May 1928 and gave its name to the entire western area of Los Angeles. After Keystone's bankruptcy in 1935, Mascot, Monogram Pictures and Consolidated Film Corporation set up shop there and merged to create Republic Pictures. The area was subsequently renamed Republic Studios.
It was during this period, around the end of the 1930s, that the Scoring Stage was built. Initially destined to be a recording venue for classical music, it was eventually used for film music. Within a few years it became a place of considerable renown; Republic Pictures even received a special Oscar in 1945 for setting up "an outstanding musical scoring auditorium which provides optimum recording conditions." In 1948, the great Aaron Copland came here to record the score he had penned for The Red Pony. During many decades, the Scoring Stage and the surrounding studios dedicated to sound post-production were taken up by Glen Glenn Sound, a company which did work on over 20,000 movies and television projects.
The Republic Studio in 1945
In 1958 Republic Pictures ceased its activities and the studios were rented by Columbia Broadcasting System, which ventured into film production. The vast lot was renamed CBS Studio Center even before the complete ten-million-dollar buy-out of the 28 hectares in February 1967.
The Todd-AO Scoring Stage
In 1987, Glen Glenn Sound was acquired by Todd-AO, the largest sound post-production company in the USA.
Created in the 1950s, Todd-AO was a 70mm film format offering then unequalled sound and picture standards. Inventor Michael Todd (Elisabeth Taylor's husband, who passed away in 1955) had the idea of a huge projection space and six sound tracks to surround the audience, so as to give the audience the impression of being "inside" the pictures. The acronym Todd-AO stems from the family name of its creator, followed by the letters of the optical company which ran the patent, American Optical.
Three million dollars were invested in the renovation of the scoring stage in 1991. Its inauguration on 23 June 1992 marked the opening of the world's largest studio dedicated to the recording of film music. The hall easily seated a 150-piece orchestra. The main consultant involved in this restauration was sound engineer Shawn Murphy. Many engineers, composers, musicians and technicians were asked to bring in their ideas and suggestions. The place quickly became a venue of choice for many prestigious composers; Jerry Goldsmith recorded many of his scores there, L.A. Confidential and Mulan among many others. Award-winning Disney scores such as The Lion King were also recorded at Todd-AO.
For many decades, Todd-AO Scoring Stage was the place where legendary composers brought to life countless unforgettable scores. When he arrived there in the nineties, James Horner walked into their formidable footsteps.
"At the completion of Willow, James asked if I would be his music editor on future projects and I was very happy to accept. He didn't have a staff so I began to assume the duties of liaison between James, orchestrators, contractors, copyists, recording facilities, and studio post-production personnel."
The Crew: Dave Marquette, Simon Rhodes, James Horner, Joe E. Rand, Jay Selvester, Jim Henrikson, Randy Kerber, Ian Underwood, Kirsten Smith, Barbara McDermott
Over the course of time, the composer surrounded himself with a steady and faithful crew, and after Todd-AO's renovation in 1992, Horner naturally chose this Scoring Stage as home base. The composer must have considered this as a uniquely ideal place for his œuvre to blossom over a period of many years, the first such place ever in fact, all the while enjoying the state-of-the-art recording conditions offered by the famed stage. James Horner spent fifteen years here, the output of which shines not only because of the number of scores recorded here but especially because of the impressively continuous relationship between the composer and the studio.
"I've been in here for 18 years, I haven't recorded in any other recording stage in LA and when I started working here it was just like home."
The rare cases in which Horner was not faithful to Studio City were the ones that prompted him to return to London, the place where he had spent his childhood, for reasons that must have been artistic or logistic in nature, or because the producers had set the project up that way. This explains why his already well-established relationship with Abbey Road continued to include The Man Without Face, Legends Of The Fall, Braveheart, Balto, Enemy At The Gates, Iris, The Four Feathers and many others. Lest we forget, the composer also recorded We're Back! A Dinosaur's Story, The Pagemaster, Back To Titanic and The Mask Of Zorro at the magnificent Air Studios Lyndhurst Hall.
On top of its proximity to Hollywood, Todd-AO offered two more advantages that might explain the composer's attachment: its exceptional acoustics were on a par with the London studios and the scoring crew, Andy Bass, Marc Gebauer, David Marquette, Jay Selvester, all overseen by Kirsten Smith, were more than up to the task.
"The first thing I like about the stage are the acoustics. They match most closely the acoustics that I am used to at EMI Abbey Road studios in London. The staff is absolutely creme de la creme."

James Horner (2007)
Kirsten Smith fondly recalls her time at the head of the Scoring Stage :
"Best job a girl could ever ask for. To be able to come to work every day and watch a 100+ piece orchestra play what James had written for them was pretty amazing."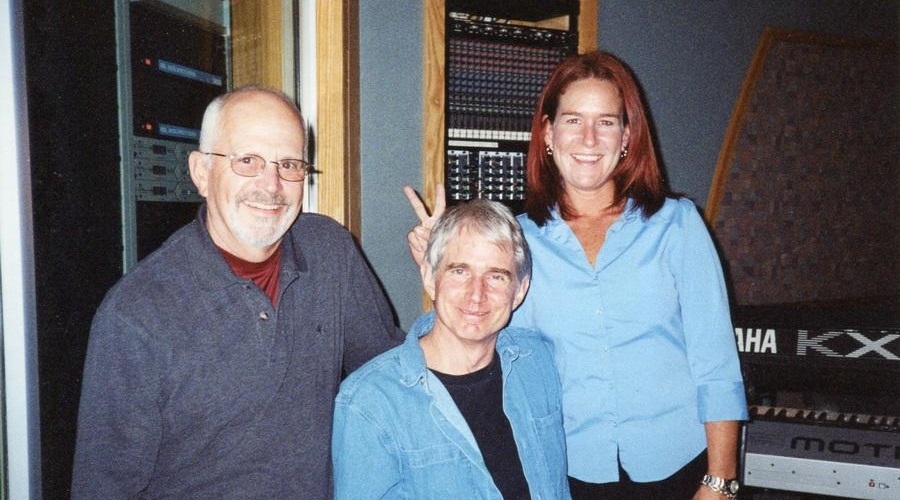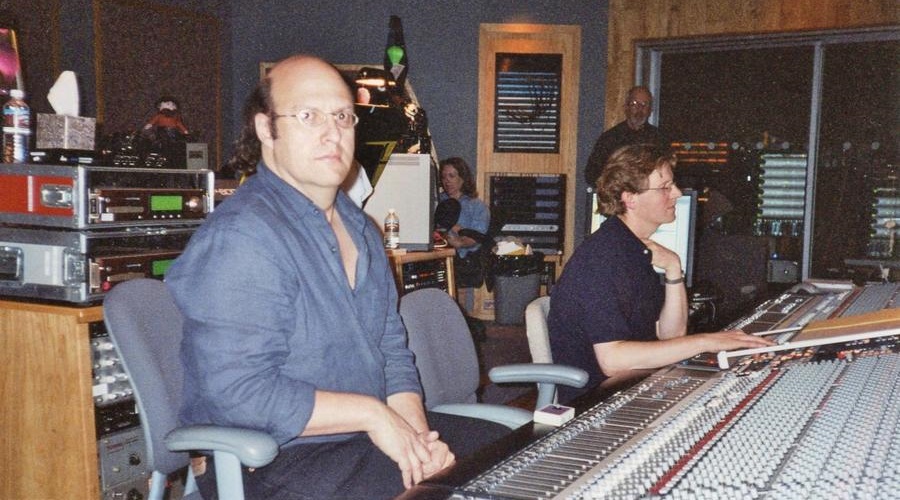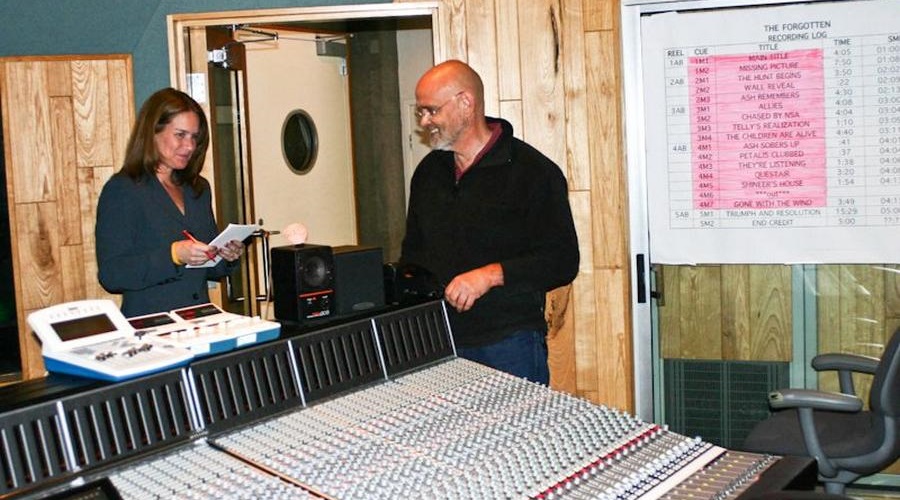 1: Jim Henrikson, Ian Underwood and Kirsten Smith
2: Randy Kerber and Simon Rhodes
3: Kirsten Smith and Jay Selvester (The Forgotten)
Todd-AO offered ideal working conditions. To James Horner and his team, the studios felt like a second home, a welcoming and pleasant place. During the Todd-AO years, music editor Joe E. Rand used to turn up dressed in costumes that reflected the movie project they were working on:
« Joe used to ajust his wardrobe to the project we were working on. The first I remember was Clear And Present Danger. Joe came fully camouflaged and the recording booth was decked out like a marine army camp. On Mighty Joe Young, he wore a monkey suit. »
Simon Rhodes, Horner's preferred « Tonmeister » since Deep Impact, also vividly remembers this habit :
"On Perfect Storm, Joe turned up in a full wet suit with snorkel and mask. It was either then or dressed as Mighty Joe Young that he conducted the orchestra to everyone's great delight."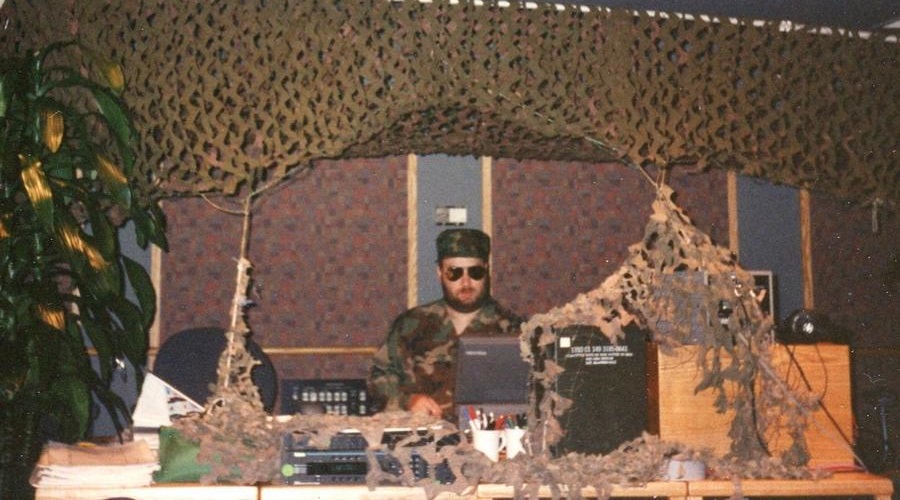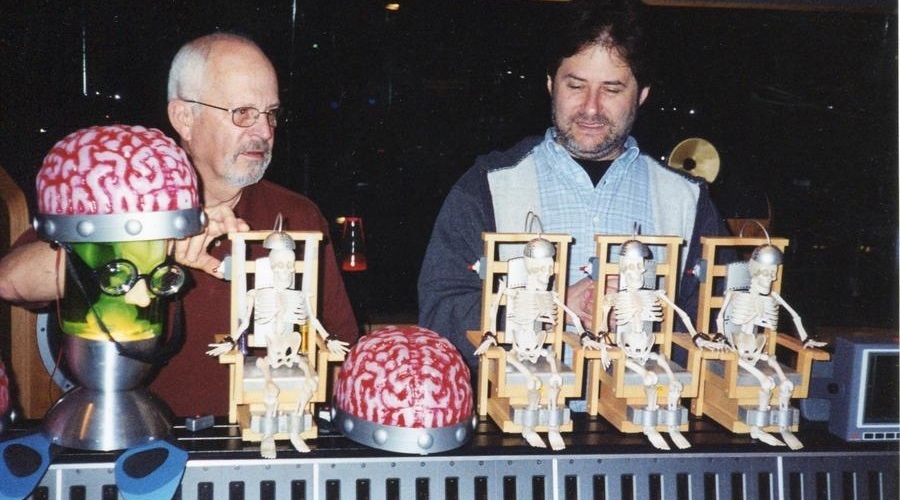 1: Joe E. Rand on Clear And Present Danger
2: Jim Henrikson and James Horner in the Control Room
So yes, James Horner recorded more than a few scores here, but it is his and his collaborators' deep attachment to the studio that stands out. Working at Todd-AO proved to be so much fun that all involved ended up collecting studio paraphernalia over the course of the many recording sessions :
"James had accumulated some pretty cool stuff (i.e. cool toys!) that they stored behind the screen and laid out whenever we were working there. They would amuse and bemuse all who visited in equal measures but the lava lamps would always be calming. James would get the studio technical engineer, Marc Gebauer, to modify and improve some of the electrical ones. My personal favorite was a tiny hand that permanently rested on the main fader of the desk. That never got put away."
In 2006, the CBS executives asked James Horner to record at Todd-AO a signature tune for CBS Evening News With Katie Couric. As irony would have it, one year later these same executives decided not to renew the lease, which forced Todd-AO to close down and put an end to sixty years of film music activity. When he recorded The Spiderwick Chronicles, James Horner reportedly stated:
"I'm devastated! This place is gone. It's a huge loss"
Fortunately, the story of the Maestro's music is far from over…
---
My warmest thanks to Kirsten Smith and Simon Rhodes. Images used courtesy of Kirsten Smith.